Ferntree Homes is your new home builder in Burraneer. Servicing all across Burraneer, we offer comprehensive and thorough project management for all our new home builds. Our countless years of experience means efficiency, innovation and perfection, providing immaculate finishes throughout the new home build near you.
Our New Home Building Service in Burraneer
Ferntree Homes will quote from your plans and construct the perfect new home to suit your lifestyle and budget in Burraneer.
When it comes to Burraneer new home builds, you deserve the best there is to offer. Building a new home in Burraneer is one of life's great achievements, and at Ferntree Homes, we're with you at every point of the exciting journey. You deserve a new home builder near you that can translate your individual taste into a design of excellence. Ferntree Homes is a new home builder near you that focuses on innovative design and high-quality workmanship, and our building services will deliver you an exclusive property that is tailored to your unique tastes.
You probably have a fair idea what you're looking for in your Burraneer new home build and at Ferntree Homes, we've got a home to suit every family, lifestyle and budget in near you. Our expert consultants can assist you in deciding which design or which home and land package is best for you. To make things even easier for you, we've listed a typical Burraneer New Home Build process so you'll be informed on exactly what to expect, what you'll be required to do and how excited you should be at each step of the way.
1. The Site Inspection
Once you've met with our expert consultants and chosen your favourite Burraneer home design we can schedule a free site inspection. This will include:
Assessing the costs of building
Visiting your Burraneer block of land
Our inspector will look at the location of services, location of trees, the slope of the land, access for deliveries and trades.
From you, we'll require:
2. The New Home Proposal
After we've inspected your Burraneer land we'll be in contact to organise a meeting where we can present your new home build in Burraneer proposal. This will include:
Site costs (the cost to build on your specific block of land).
Any variations you may have requested to the standard Burraneer home design.
Statutory and council requirements.
Any value packages you may have chosen.
What we need from you:
Any final changes or updates you may require for your new home build in Burraneer need to be made at this stage.
We advise you consult your finance manager to ensure you're comfortable with your loan approval.
3. The Contract For Your New Home Build Project
You'll be invited to Ferntree Homes' head office so we can present your Burraneer new home build plans and building agreement for you to sign.
We will:
Organise a full set of architectural drawings suitable for council.
Sign your building agreement and provide you with a copy.
What we need from you:
Your external colour choices including bricks, roof material, fascias, gutters, windows and garage doors. These all need to be chosen so we can gain BASIX and deliver your plans to the council. But don't stress, you won't be on your own as one of our preferred brick suppliers will assist you in making your choices and in completing your BASIX checklist.
Provide confirmation of land ownership.
Provide details of your financier and loan amount.
Professional landscape plan (only if the council requires).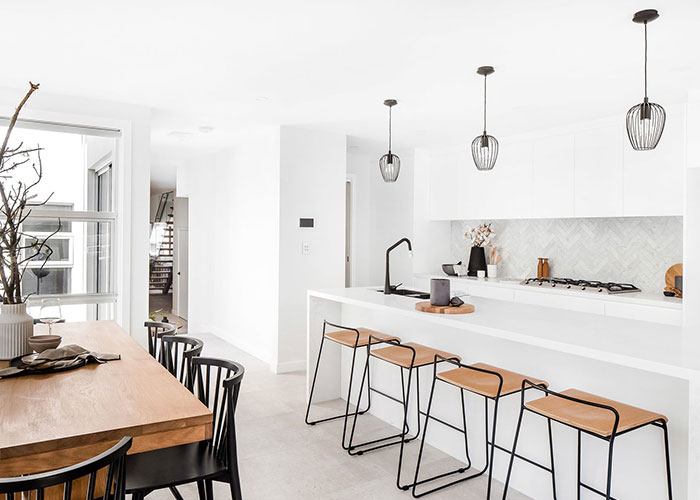 4. Begin Design Consultations for Your New Home Build in Burraneer
Your design consultations are when the fun truly initiates. It's where you'll start making your Burraneer new home build independently tailored to you. Our expert suppliers and in-house design consultants will help in picking out colours, appliances, fixtures and everything else needed to make your Burraneer home a reality.
Stage One: Appointments to be completed first with our external suppliers so you can select the following:
Kitchen design, appliances and layout.
Flooring.
Optional choice of window furnishings.
Stage Two: Your design selection consultation will be held with one of Ferntree Home's expert design consultatns. At this meeting you'll decide on:
Air conditioning.
Bathroom fixtures.
Kitchen fixtures.
Security alarm.
Stairs – both external and internal.
Doors – both external and internal.
Skirting boards, cornices and architraves.
Internal paint colour(s).
Stage Three: Your third and final meeting for your new home build in Burraneer will be our electrical consultation where you will select all electrical finishes including:
Power outlets.
Light fittings.
Exhaust fans.
Two-way switches.
5. The New Home Build Pre-Construction
We'll organise reports from suppliers and deal with all the complex paperwork before lodging a building application to the relevant council/certifier on your behalf.
What we do:
Gather all required reports which may include; thermal report, BASIX report, hydraulic report, landscape plan, structural engineering report, water board approvals, bushfire reports, acoustic reports etc. Occasionally additional reports may be required from you.
Seek the approval of your local authorities to start.
Organise for a peg out survey.
Provide you with the relevant information on what you need to do to prepare for construction.
What we need from you:
Your three completed stages of colour choices.
If you're a knock down rebuild customer you'll need to lodge a demolition application (we can send you the link) and have this demolition wrapped up before Ferntree Homes can commence construction. We highly recommend no demolition take place until you have received council approval for your new home.
Provide a letter from your lender saying building can begin.
Sign and return our validation letter and construction plan.
6. The New Home Build Construction
Now it's time to watch your new Burraneer home come to life.
What do we do?
Our site coordinator will assess your Burraneer site.
We'll send you a copy of the approved construction plan. We'll also advise you on who your building supervisor and customer assistance representative are.
Now it gets really exciting as we initiate site works including excavation, pouring of the slab, piering, frame delivery, tiling and brickwork.
Organise all mandatory inspections by third parties including the final inspection by the certifier and organise for all relevant documentation the certifying authority requires from Ferntree Homes.
What we need from you:
You can request a site visit through your supervisor at numerous stages of the process.
A final walk through of the home where your supervisor will present you with the finished design.
When you receive your occupation certificate all that's remaining is to move into your brand new Burraneer home.
7. Enjoy Your New Home!
The big moment is finally upon you! Upon settlement, we'll meet and present you with the keys to your new home, which is when you'll see your dreams become a reality.
---
Ferntree Homes has been completing all kinds of new home builds in Burraneer for over 25 years – we've experienced it all. So if you're looking for reliable, experienced, friendly, efficient and quality new home build specialists near you, simply call Ferntree Homes now!